SPORTS & REMEDIAL MASSAGE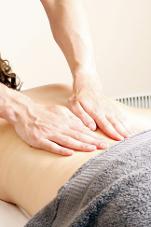 Sports and Remedial massage is not just for sportspeople, anyone can benefit, including people in physically demanding jobs. The benefits include:
Relieving muscle tightness and tension and thus help prevent injuries by maintaining and improving flexibility.
Aiding the recovery of injuries such as tendonitis, ligament sprains and muscle strains by reducing inflammation, increasing circulation and removing waste products.
Can help restore normal movement and posture by stretching shortened muscles and releasing adhesions and trigger points.
Steve is a qualified Sports & Remedial Massage Therapist through the highly acclaimed London School of Sports Massage.