Group Classes
The reformer is the most commonly used piece of pilates equipment. Through the use of a series of pulleys, resistance springs and a moveable carriage pilates exercises can be made more or less challenging for the inidividual.
The 55 minute long session will simply speed by as you burn calories and bulid core strength. The emphasis is on light-weight and high reps to strengthen, tighten and tone your entire body.
This is a workout that will challenge you and get quick results - your hips, legs, bum and arms will feel and look great and your flexibility enhanced
At Activate Pilates group sessions are a maximum of 7 people and are split into the following classes:

Essential Reformer
Reformer
Reformer Plus
Jumpboard
Essential Reformer
Our essential reformer classes are a slower paced reformer pilates class.

These are suitable for those who are totally new to reformer pilates and those who may have a few aches, or just wish to enjoy a more gentle pace.

This workout will still challenge all areas of the body working on core strength, muscle toning and flexibility.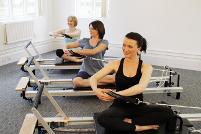 Reformer
These are our standard classes, building up to more intermediate level exercises.

The pace of classes is faster than the 'essential reformer' sessions and features more exercises in less stable positions, such as kneeling.

Beginners are not excluded from these classes depending on your fitness levels.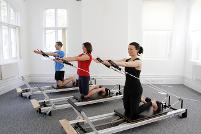 Reformer Plus
These classes work up to Advanced level.

Reformer plus classes are reserved for those who have worked at reformer level for a period of time and are regular attendees.

Entry to these classes is at our invitation.
Jumpboard
Our jumpboard reformer classes are a cardio based reformer class using the jumpboards.

This class has a larger cardio element than our standard classes and will further challenge your core, and total body strength, while elevating your heart rate.

These classes are for Reformer and Reformer Plus clients.