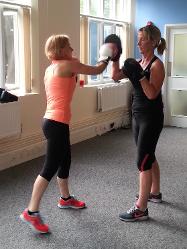 Benefits of Boxing for Fitness:
Cardiovascular fitness
Muscular strength and endurance
Co-ordination
Power
Stress relief
Mental challenge
Boxing for Fitness is for anyone of any age and all levels of fitness.

Boxing for Fitness teaches you the fundamentals of boxing in a great fun workout. This is real boxing combined with real fitness!
Working with a partner who will be wearing focus pads, you will be taken through 5 rounds, each 3 minutes in duration.

Each round has a different focus, whether it be technique, combinations, legs, abdominals or cardio.
After each round your role changes from boxer to padholder and you will know that you are working throughout.
Expect lots of punching, a mental as well as physical challenge and a full on all body workout incorporating moves such as lunges, squats, press ups, burpees, star jumps and the plank.
Prior to joining a class you will need to arrange an introductory session to enable us to teach you both the punching and pad holding techniques.